What are the benefits of Laser Hair Removal?
Modern Lasers like the LightSheer duet hit the hair follicle with high precision and safety resulting in an average of 85% hair reduction within an average of 6 sessions. Remaining hair is usually light and not bothersome.
How to Prepare for Laser Hair Removal?
Make sure what machine is going to be used, is it an original brand that is suitable for your skin type, and the training of the doctor doing the procedure.
Stop epilation 2 to 4 weeks as we need the hair roots as a target for laser.  Shaving is allowed.
Avoid direct sun exposure and sun tanning.
What to Expect During Laser Hair Removal?
Shaving is done before the procedure.
You will wear eye protection.
A cooling gel might be used depending on the type of machine.  Modern Laser hair machines like the LightSheer Duet usually do not require gel use.
Outcome and Side effects
Usually you do not feel discomfort but redness and irritation similar to a sunburn may occur and is managed by cold compresses.
Makeup may be used next day if the skin is not irritated.
It is advisable to use a sunscreen.
The hair should start falling over a period of 3weeks.
Blisters are rare but are more likely in people with darker complexions. Other potential side effects are swelling, redness, and blisters are rare using the modern diode lasers like the LightSheer Duet.
We use the LightSheer Duet, the Mediostar Next Pro XL & the Mediostar Alex as they are the safest and most effective Laser Hair Removal machines in the USA & Germany according to the opinion of most doctors surveyed
Who should do Laser Hair Removal?
If you're bothered with shaving, and waxing, laser hair removal could be a suitable option.
Laser hair removal is one of the most commonly performed cosmetic procedures in Egypt and the Middle East as the combination of black hair with relatively white skin could be quite noticeable.  A focused beam f laser is absorbed by the pigment (Melanin) in the hair follicle thus destroying it.
We are also proud to let you know that we received the award for best Laser treatment in Paris, at the European Aesthetic Congress 2015-2016.
Mediostar Pro XL

LightSheer Duet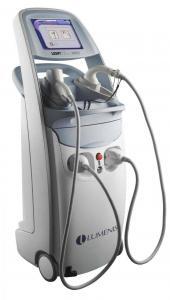 Best Laser Treatment Award


إزالة الشعر بالليزر مقارنه بالوسائل التقليديه (السويت
والشمع)
إزالة الشعر بالليزر ، والسويت ، والشمع هي ثلاث طرق مختلفة لإزالة الشعر ، ولكل منها مزاياها وعيوبها. فيما يلي نظرة عامة موجزة عن كل:
إزالة الشعر بالليزر: إجراء تجميلي يستخدم الليزر لإزالة الشعر. يستهدف الليزر الميلانين في بصيلات الشعر ويتلفها ويمنع نمو الشعر في المستقبل. تعتبر إزالة الشعر بالليزر بشكل عام طريقة طويله الامد لإزالة الشعر أكثر من الحلاوة أو الشمع ، ولكنها قد تتطلب عدة جلسات لتحقيق النتائج المرجوة. يمكن أن تكون أكثر تكلفة من الطرق الأخرى ، ولكنها قد تكون أيضًا أكثر كفاءة في الوقت وأقل إيلامًا.
الحلاوه: الحلاوه هي طريقة طبيعية لإزالة الشعر تستخدم معجونًا مصنوعًا من السكر وعصير الليمون والماء. يوضع المعجون على الجلد في الاتجاه المعاكس لنمو الشعر ، ثم يُزال بسرعة ، وينزع الشعر من الجذور. يمكن أن يكون التحلية أقل إيلامًا من الشمع لأن المعجون يلتصق بالشعر فقط وليس الجلد. يمكن أيضًا أن يكون أقل تهيجًا للجلد لأن المعجون مصنوع من مكونات طبيعية. ومع ذلك ، يمكن أن تكون الحلاوة أقل فعالية من إزالة الشعر القصير في إزالة الشعر القصير وقد تتطلب علاجات أكثر تكرارًا.
الشمع: إزالة الشعر بالشمع هي طريقة لإزالة الشعر باستخدام الشمع لإزالة الشعر من الجذور. يوضع الشمع على الجلد في اتجاه نمو الشعر ، ثم يُزال بسرعة ، وينزع الشعر من الجذور. يمكن أن يكون الشمع أكثر فعالية في إزالة الشعر القصير من الحلاوة ، ولكنه قد يكون أيضًا أكثر إيلامًا وتهيجًا للجلد. يمكن أن تكون عملية إزالة الشعر بالشمع أقل كفاءة من حيث الوقت مقارنة بإزالة الشعر بالليزر ، حيث تتطلب مواعيد منتظمة للحفاظ على بشرة خالية من الشعر.
مزايا إزالة الشعر بالليزر عن الشمع والحلاوه:
نتائج طويلة الأمد: إزالة الشعر بالليزر هي حل طويل الأمد لتقليل الشعر يمكن أن يوفر نتائج طويلة الأمد ، بينما لا يوفر الشمع سوى إزالة مؤقتة للشعر. تستهدف إزالة الشعر بالليزر بصيلات الشعر ، مما يعني أنه بعد سلسلة من الجلسات ، يصبح الشعر أرق وأخف
استهداف دقيق: تسمح إزالة الشعر بالليزر بالاستهداف الدقيق لمناطق معينة ، مما يعني أنه يمكن إزالة الشعر غير المرغوب فيه من منطقة معينة ، مثل الشفة العليا أو الإبطين ، دون التأثير على الجلد المحيط. من ناحية أخرى ، يمكن أن يكون الشمع فوضويًا ويمكن أن يزيل الشعر من المناطق التي لا ترغبين في علاجها.
أقل إيلامًا: في حين أن إزالة الشعر بالليزر قد تسبب بعض الانزعاج ، فهي عمومًا أقل إيلامًا من إزالة الشعر بالشمع ، والذي يتضمن اقتلاع الشعر من الجذور. تستخدم إزالة الشعر بالليزر آلية تبريد تعمل على تلطيف البشرة وتقليل الانزعاج أثناء العلاج.
موفر للوقت: إزالة الشعر بالليزر حل يوفر الوقت ويتطلب جلسات أقل من الشمع. يمكن إتمام إزالة الشعر بالليزر في غضون دقائق ، بينما يمكن أن يستغرق الشمع ما يصل إلى ساعة أو أكثر حسب المنطقة التي تتم معالجتها.
بشكل عام ، في حين أن لكلتا الطريقتين مزايا وعيوب خاصة بهما ، فإن إزالة الشعر بالليزر تقدم نتائج طويلة الأمد ، واستهداف دقيق ، وألم أقل، وهي حل موفر للوقت مقارنة بإزالة الشعر بالشمع.
لمعرفة تكلفة ليزر إزالة الشعر: https://derma-health.com/ar/prices-for-laser-hair-removal/
للاستفسار والحجز
Dokki clinic
عياده الدقى
01004699146 – 01015550537 – 01026777407
139 A El Tahrir Street
Zayed Clinic
عياده زايد
01000906322 – 01026212995 – 01064691933
Twin Towers, C building, first floor
Tagamaa Clinic
عياده التجمع
01033993198 – 01030272501
Elegantry Mall, from south ex
For Medical questions, Dr Heba Darwish
للاساله الطبيه د هبه درويش: 01005800001